Gear Shed: how it works...

The gear shed is simple to use and an awesome resource for the everyday adventurer. We promise it's easier than reading even those free maps the National Parks hand out. Just follow these steps!
 Visit our Calendar tab to find a gear hour that fits your schedule. Click on a specific hour in our calendar to view the location, gear officer, info, etc.
Bring a valid form of ID such as you Cal ID or your Driver's License.
Bring a check, cashier's check, credit card, or debit card to put down your deposit.
The Gear Officer will work with you to get your gear checked out.
Bring back your gear within one week and reclaim your check or credit card info.
For every week that gear is returned late, is a week that you will be banned from gear shed use (Example: Returning gear 2 weeks late results in 2 week ban from gear shed)
To find the gear shed:
1. Find the big, white staircase on the exterior of the west side of Hearst Gymnasium (roughly halfway between the Barrows Hall tunnel and the steps that lead down to Bancroft Way)
2. Take a right through the door before going up the stairs. Go into the hallway.
3. Continue past the large, open area and go into the last room on the left.
4. Find cage 85 *new cage as of 11/16/21. previously cage 24*
Please Note: Gear is on a first-come-first-serve basis. During school breaks more people tend to go on trips, so we cannot guarantee that there will be gear available in the shed.
See below for a picture of our beautiful gear shed.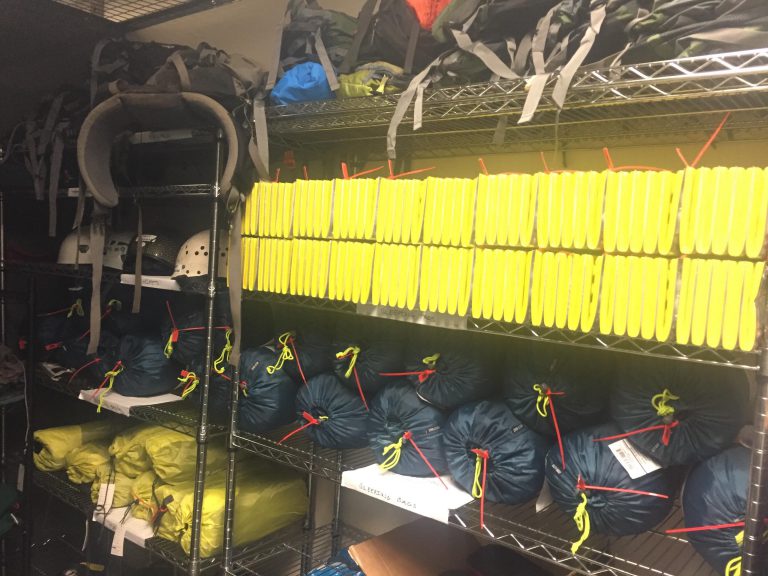 Gear Hours & Checking Out Gear
You have 1 week to return your gear starting the day that you check it out, and ending on the gear hour closest to (but no sooner than) the 1 week mark. You may return at any earlier gear hour if you are done using it. In general, please return gear as soon as possible – we have a lot of members who want to go on trips as well.
For each week that gear is returned late, is a week that you will be banned from the gear shed (Example: Returning gear 2 weeks late results in 2 week ban from gear shed)
If a Gear Officer flakes on their hour, we extend your check by a week for free.
Condition of Gear & Damages
TLDR: Treat the gear as if it were YOUR OWN. CARE FOR IT, LOVE IT, BE IT.
You are responsible for notifying us if you have broken, lost, or damaged any of our gear. If you do, you will only be charged the price of having the particular item(s) fixed or replace. Normal wear and tear is not charged for, but still let us know. If you don't indicate such issues and we find out some other way, we will find you because we keep track of all our rentals! You will be charged a $40 fine + the price of fixing the gear.
Other people use the gear too and it could be dangerous for someone to accidentally use damaged gear. Just be a nice person and let us know. Please!!!
You are responsible for inspecting the gear before your trip for any damage or missing pieces. If you find any such flaw please notify us within two days of renting the gear. The previous renter will be held responsible. If you don't let us know, you will be held responsible.
Please be a good person and strive to return gear in the condition that you rented it out in. Wash your sleeping bag liner, dry out your tent, clean your crampons. If gear is returned late due to extra time needed to clean or repair it, that is okay and we will love you for taking care of our gear.
Please see our equipment page for specifics on how to properly take care of gear.